August 7 - As promised, it was a relaxing day. Got up late and puttered around, reading and watching TV. Took a trip to the grocery store and made up chicken cacciatore for dinner while the kids went swimming in the afternoon. Umm, it was a good meal, even with crescent rolls. Watched some Disney Channel and wrote out some postcards. Off to Denver tomorrow afternoon.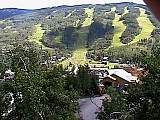 A view out the back (front?) of the condominium looking at the Vail ski slopes. The view must be even more fabulous in the snow!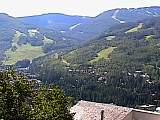 Looking slightly to the left.

Where there's a pool, you'll find Kim and Chris.