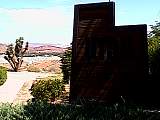 Tuesday the 27th. On the road at 8:45 headed North from Las Vegas cutting across a corner of Arizona and into Utah towards our destination of Zion National Park. Took the first pit stop in Utah.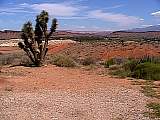 This is a plain old view from the rest stop. Even the dull views are impressive.
Onwards to Zion. Our first stop was at the Kolab entrance to Zion. This is the least visited portion of Zion that can be entered by car. Or something like that.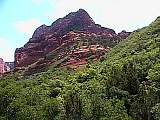 Some breathtaking views there that are not really done justice by these digital pictures. Let's hope the film versions come out better.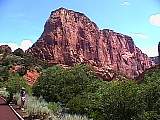 A pretty picture with a pretty lady.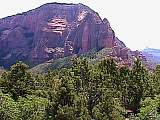 Hmm. Looks like a nice backdrop for the family picture.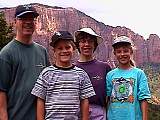 The obligatory...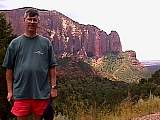 A solo shot. Now where did that belly come from??

See those ants there?

Here they are closer up (from same camera position).

On the way from Kolab to the main entrance to Zion was about an hour. We drove through rain and saw several vivid lightning streaks. When we checked in the rain had stopped, but it started again pretty heavily when we went to unload our stuff. Naturally. Here's a partial view of our cabin.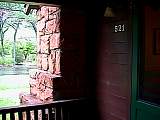 Didn't get in any hiking tody, but we plan on it for tomorrow. The forecast calls for a 50% chance of rain and thundershowers so we'll have to be on our toes.